Lullami Baby Bubble Bath 500ml Refill Pack
给宝宝洗澡,对于很多妈咪来说都是非常棘手的,也有很多妈妈甚至都不敢尝试,但是,当你学会了,你就会知道,给宝宝洗澡是一件多么幸福的事情,亲手冲洗宝贝娇嫩的身体,看着宝贝的小脚丫踢出浪花的时候,那一刻,你是充满幸福的妈妈。
每天宝宝洗澡的过程中,妈妈只要用心,不仅对宝宝的健康发育起到不可忽视的作用,还可以很好的促进亲子关系,宝爸宝妈们,请尽情享受跟宝贝沐浴的时光吧!
Lullami Baby Bubble Bath 泡泡沐浴乳
Lullami一直都是妈妈的好帮手,这次推出别出心裁特别推出专为小孩们研制的泡泡沐浴乳 Baby Bubble Bath,以天然成分研制而成,从头到脚的洗护皆可使用。天然不刺激眼睛的配方,给宝宝更舒适愉快的洗澡体验。一压就有细致绵密的泡泡,适用用于浴盆泡澡也能用在普通沐浴。沐浴时光就是最好的亲子时光,今天就和宝贝体验不一样美好的沐浴时光吧!
Lullami Baby Bubble Bath 泡泡沐浴乳 特点
绵密微细泡泡
由头至脚多用途
不刺眼配方
有助于滋润肌肤
降低皮肤敏感度
洁净清新舒爽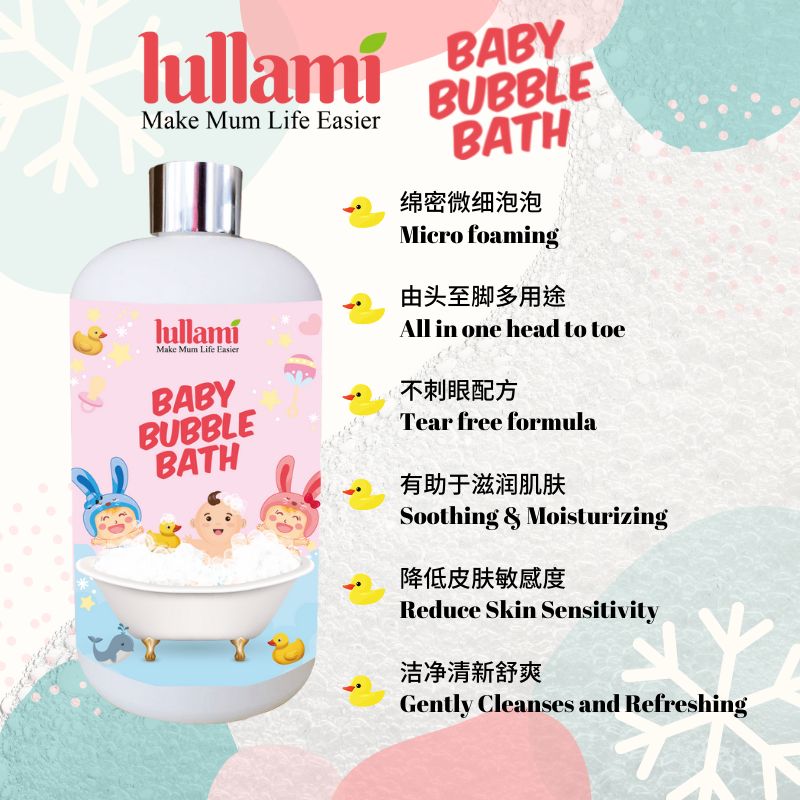 Bathing baby can be tricky for many moms, some even too afraid to try. But you will learn that bathing your baby yourselves is such a wonderful and lovely task when you know how. Gently rubbing through your baby delicate skin while water splashing around as they play with water. At that very moment, you know you are the happiest moms in the world.
With love and care, mums do not only play an important role in the development of baby but also in promoting a strong bonding that is authentic. So, mums and dads, start bathing your kids yourself and enjoy the moment before it went away.
Lullami has always been the best helper for moms. Baby Bubble Bath, latest product launched by Lullami, is a product develop specifically for kids, made of all natural ingredients, can be use from head to toe and harmless to baby. Its natural and non irritating formula, turns bathing from nightmare into a wonderful experience. No more crying from eye irritating, your kids will love it and love bathing every single time. Its micro foaming formula is suitable to use in bath tub or shower. Do not miss the chance to bath with your kids. Bring Lullami Baby Bubble Bath home and start creating unforgettable and precious moment with your kids.
Micro foaming
All in one head to toe
Tear free formula
Soothing & Moisturizing
Reduce skin sensitivity
Gently cleanses and refreshing
Boswellia carterii oil
Frankincense essential oil has many benefits. It is wonderful for the skin. Used medicinally, this anti-inflammatory oil is known to soothe inflamed skin by reducing the sensations of redness, swelling, and itching. It helps to disinfect and tighten the pores, thereby promoting the speedy healing of cuts, wounds, and scars.Frankincense oil is very effective as a sedative because it induces a feeling of mental peace, relaxation, satisfaction, and spirituality.
Chamomilla recutita matricaria oil
Commonly used to relieve inflammatory skin conditions and calm sensitive skin. Provides antioxidant protection and can be used to soothing, moisturize and inhibit the growth of bacteria.
Juniperus communis fruit oil
Juniper berries promote healthy skin functions, woody notes and fresh fragrances that help relieve tension, release stress and balance body and mind, as well as help purify the skin and promote healthy skin.
---